annie with sound
13 Replies, 15567 Views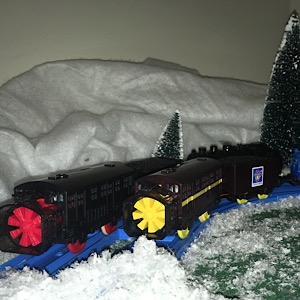 Very cool. I will have to look for one of these. Great find..
Nice Chrisjo congratulation!!
Play nice & have fun!!
Those of you (like me) who thought that this 'chuffing' Annie variant made its first appearance in the Tomica World Thomas Adventure Set no.7408, released in 2000, might be interested to learn that it actually made its debut in a Plarail set somewhat earlier than this.
The Thomas the Tank Engine and Harold Flying in the Sky Set ( きかんしゃトーマスと 空飛ぶ ハロルドセット ) was released in August 1998.
The text beside the detail picture on the box - 卜ーマスが走行中,リアルな走行音がします。(音はアニ一から出ます。) - tells us that "
when Thomas is running, there is a realistic running sound. (Sound comes from Annie.)
"
But that's not all.
The chuffing mechanism first appeared as early as 1982, in the blue mail car in the Shuppo D-51 set ( シュッポーD-51セット ) and in the Shuppo D-51 ( シュッポーD-51) 3-car. Shuppo is an onomatopoeic made-up word which loosely means chuffer or puffer.
The text on the yellow paper wrapped around the mail car says "sound Plarail" ( サウンド プラレール ). Don't be put off by the brown colour of the van body in the underside view, it's been painted brown as a custom. See also this video:
https://www.youtube.com/watch?v=nriaoxxHvMc
The following 4 users Like

chrisjo

's post:
4 users Like

chrisjo

's post
•

DalaGStanator

,

generic_truck_69420

,

GreatGordonFan

,

Super
I am not sure if I have ever heard of the Chuffing Mail Car before, great bit of research Dr Chris. Should be great for a non-Thomas train. 👍

The following 2 users Like Super's post:
2 users Like Super's post
•

DalaGStanator

,

MuddyPoppins
Users browsing this thread: 1 Guest(s)